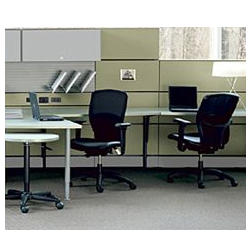 Transit® offers refinement with a rich material palette. Designed for maximum planning flexibility, Transit allows you to shape and reshape the office landscape as needed.
A high-performance office furniture system, Transit offers freedom of planning and design with sophisticated features such as continuous off-modularity, stacking panels and a high-capacity electrical system.
A comprehensive finish program combined with varying panel style options contribute to a clean, elegant aesthetic appropriate throughout any office environment.
Transit fulfills these requirements through key attributes:
On-/Off-Modularity
· Continuous off-module capability positions panels, worksurfaces, storage, lighting and electrics at any point along the panel, offering superior planning advantages
Stackable Panels
· Panel segments easily stack and demount from 36 inches to ceiling height, minimizing reconfiguration time and costs
Power/Data
· Multiple options for mounting electrics and six different wire systems maximize power/data planning and delivery
Elements Program
· A full range of Element styles, from fully segmented to monolithic, can be easily interchanged to vary the look or function of a workspace
Product Integration
· Transit easily synergizes with other Teknion product lines - Altos®, xm®, Ability®, Lyft and filing and storage
· Expands planning applications, facilitates migration between floor plates, fine-tunes the look and function of a space by adjusting the product mix
Transit & Lyft
Designed to enhance Teknion systems furniture, Lyft is a collection of universal space division products that integrate with Transit®, T/O/S® and Leverage®. Lyft allows users to customize and balance the mix of features, cost and aesthetics related to space division planning.